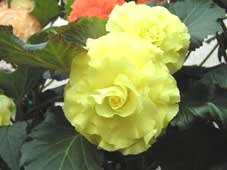 The majority of horticultural shows incorporating a begonia section were held in the Central and West areas of Scotland, as were all meetings of the Scottish Begonia Society. To generate interest in the East of Scotland a group of Fife amateur growers, solicited by Matt Stobbs, met in Dunfermline on 21st February 1988, and as a result the East of Scotland Begonia Society was duly formed with 15 members and an executive committee comprising; - President Bill Nellies, Vice-President John Murray, Secretary Matt Stobbs and Treasurer Danny Sutherland.
To mark its first year in existence a begonia display was incorporated in the annual show of Dunfermline Horticultural Society in the Glen Pavilion, Pittencrieff Park, Dunfermline. Then in 1989 the Society staged its own annual begonia show in conjunction with Dunfermline Horticultural Society. A number of trophies had been donated and the standard of exhibits was very high for a new society. It has been a basic principle of the Society to promote female members and they have played a significant part in the development of the Society, winning many trophies, including Best in Show.
| | |
| --- | --- |
| Flo Nellies with her prize winning begonias. Click on the image for a larger version | The standard of growing in the east has increased substantially with the result that three members have won the Scottish Six Bloom Championship, Ronnie Welsh, the late John Murray and Flo Nellies. Flo was the first woman to win a national championship and to enter the Scottish Twelve Plant Championship at Ayr. In 2002 Robert Nellies won the British Championship for "The Twelve Board" also at Ayr show. The hybridising and growing of begonias from seed is also providing a challenge to Society members, Again the expertise in the east has reflected in success in this category at Ayr Flower Show. The Society has gone from strength to strength over the last few years and now has 48 Members. |
As a result of a successful society, annual horticulture shows in Dundee, Glenrothes, Leven, and Cupar have an extended begonia section in their schedules and there is no doubt that this has enhanced the attraction of these shows to exhibitors and the general public alike.